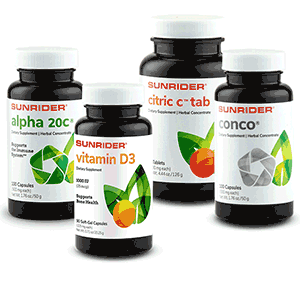 The Immunity and Respiratory Support Pack | By Sunrider
Pack in Powerful Prevention
A strong immune system is your number one defense against viral attacks and sickness. Featuring four targeted products, our new pack provides powerful herbal nutrition to support your immune and respiratory systems and overall health. Don't just treat symptoms; proactively protect your health with natural formulas backed by hundreds of years of traditional use.
Pack Contains:
Citric C Tab (90 Tabs)  | Chewable Vitamin C + Rose Hips by Sunrider
Conco

(100 Capsules) | Herbal Respiratory Supplement by Sunrider

Vitamin D3 1000 IU, 90 caps
Alpha 20C®
Step up your daily defense regimen with Alpha 20®. Infused with Chinese white flower, paris herb, and imperate root, our powerhouse herbal formula nourishes T cells that fight germs and infections while fueling your body with antioxidants, calcium, and other fortifying nutrients.

Citric C™ Tab
Daily intake of vitamin C is essential for good health. Ensure you're getting your daily dose with Citric C™ Tab. Specially formulated for superior absorption, our tasty chewables boast a potent blend of herbs that includes green tea extract and rose hips, rich sources of vitamin C and antioxidants.

Conco®
Breathe easy and feel balanced with Conco®. Our highly concentrated, nourishing formula helps bring your respiratory system into balance while supporting your body's overall health. Chuan xiong root promotes healthy circulation while golden bell fruit and bamboo leaf support healthy respiration, digestion, and circulation.*
The Immunity and Respiratory Support Pack | By Sunrider has a rating of 5.0 stars based on 1 reviews.
Disclaimer: The views and opinions expressed by contributors of the product reviews are their own and not necessarily those of HerbsFortune.com. HerbsFortune.com does not endorse or imply any medical claims from these reviews. These reviews should not be taken as recommendations but rather customer opinions of the products that they may or may not have used. Reviews are not intended as a substitute for appropriate medical care or advice and are not intended to diagnose, treat, cure, or prevent any disease.