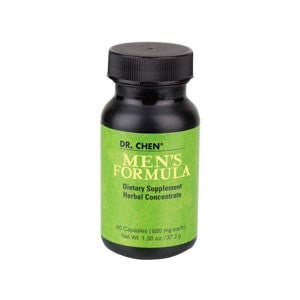 OUT OF STOCK / PRE-ORDER Dr. Chen Men's Formula | Male Health & Performance Supplement | by Sunrider
Good prostate health is an integral part of every man's overall well-being. Dr. Chen® Men's Formula® supplement addresses this need, especially in men over 40.*
The complex formula contains a unique proprietary blend of Saw Palmetto fatty acids and other herbs as well as antioxidants, such as lutein and lycopene that are specially combined for maximum effectiveness. Dr. Chen® Men's Formula® helps maintain a healthy prostate in middle-aged men.*
Owner expertise and Eastern herbal expertise combined with Western science produces this exclusive formula. Our proprietary formula is manufactured under strict quality control procedures in Sunrider's own state-of-the-art facilities.
Ingredients Include: saw palmetto; anemarrhena root; codonopsis root;
Contains soybean.
* These statements have not been evaluated by the Food and Drug Administration. This product is not intended to diagnose, treat, cure or prevent any disease.
Recommendation
Take one to two capsules with meals, three times a day.
60 Capsules/Bottle
OUT OF STOCK / PRE-ORDER Dr. Chen Men's Formula | Male Health & Performance Supplement | by Sunrider has a rating of 4.4 stars based on 7 reviews.
Disclaimer: The views and opinions expressed by contributors of the product reviews are their own and not necessarily those of HerbsFortune.com. HerbsFortune.com does not endorse or imply any medical claims from these reviews. These reviews should not be taken as recommendations but rather customer opinions of the products that they may or may not have used. Reviews are not intended as a substitute for appropriate medical care or advice and are not intended to diagnose, treat, cure, or prevent any disease.