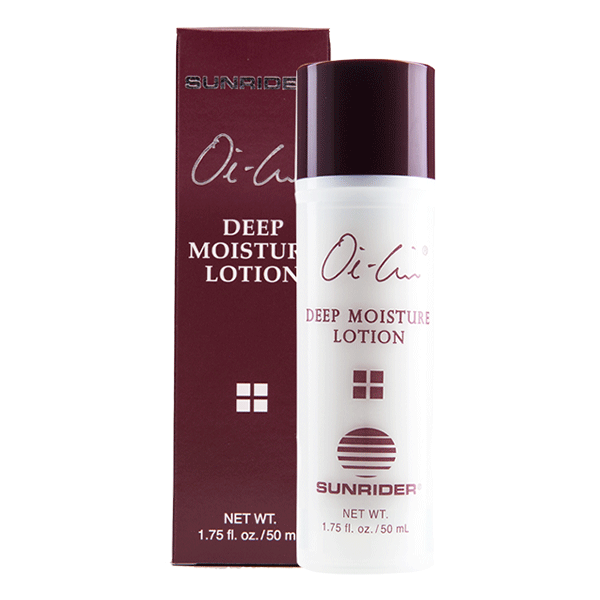 OUT OF STOCK / PRE-ORDER Oi-Lin Deep Moisture Lotion | by Sunrider
Temporarily out of stock due to production changes at Sunrider International. In the meantime, you can pre-order it, save a place in line and lock in the price!
After firming and toning with Kandesn® Astringent, Oi-Lin® Deep Moisture Lotion provides the skin with intense hydration that's sealed in so your skin stays hydrated and healthy. It's the last step in our Advanced Skin Care Regimen.


We use an advanced formula that contains vegetable and citrus extracts, as well as essential oils, to naturally soothe and moisturize the skin. The rich blend of botanical extracts and natural emollient oils provides concentrated moisture and hydration. Never sticky or greasy, Oi-Lin® Deep Moisture Lotion is lightweight and easily absorbed.

Recommendation
After cleansing your face with Oi-Lin® Warm Facial Scrub and applying Kandesn® Astringent with a cotton ball, apply Oi-lin® Deep Moisture Lotion in the morning and at night to add vital moisture.
Net Wt. 1.75 fl. oz./50 mL
Paraben Free
OUT OF STOCK / PRE-ORDER Oi-Lin Deep Moisture Lotion | by Sunrider has a rating of 5.0 stars based on 1 reviews.
Disclaimer: The views and opinions expressed by contributors of the product reviews are their own and not necessarily those of HerbsFortune.com. HerbsFortune.com does not endorse or imply any medical claims from these reviews. These reviews should not be taken as recommendations but rather customer opinions of the products that they may or may not have used. Reviews are not intended as a substitute for appropriate medical care or advice and are not intended to diagnose, treat, cure, or prevent any disease.