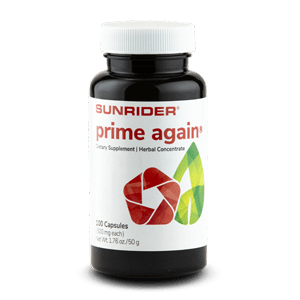 NOW AVAILABLE Prime Again Natural Herbal Supplement by Sunrider


Designed to address the body's endocrine system.*
Herbs that take a primary role in this task include Chinese yam, leek seed, mushroom powder, and paper mulberry.

Other herbs that address the functions of distinct organs include eucommia bark, mongoliavine fruit, senega root, cornel fruit, forty-knot root, broomrape herb, morinda root, and fennel seed.

The endocrine system is truly complex, as it encompasses the multitude of hormone-producing glands.
Prime Again® supplement is designed to address the body's endocrine system with "fire element" herbs that work in harmony with the body's hormone-producing glands.* Based on the Philosophy of Regeneration®, Prime Again® is designed to maintain optimum health through proper nutrition and keep the body in balance. Exclusively formulated with a proprietary blend of concentrated herbs for effectiveness, Prime Again® is a unique combination of Eastern herbal tradition and Western science.
*These statements have not been evaluated by the Food and Drug Administration. This product is not intended to diagnose, treat, cure or prevent any disease.
Ingredients Include: Chinese Yam, Forty Knot Root, Leek Seed, Poria, Cornet Fruit, Paper Mulberry

NOW AVAILABLE Prime Again Natural Herbal Supplement by Sunrider has a rating of 4.9 stars based on 17 reviews.
Disclaimer: The views and opinions expressed by contributors of the product reviews are their own and not necessarily those of HerbsFortune.com. HerbsFortune.com does not endorse or imply any medical claims from these reviews. These reviews should not be taken as recommendations but rather customer opinions of the products that they may or may not have used. Reviews are not intended as a substitute for appropriate medical care or advice and are not intended to diagnose, treat, cure, or prevent any disease.