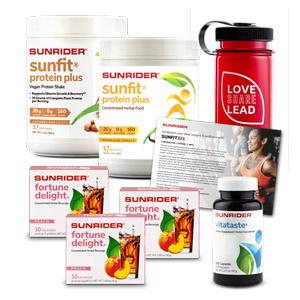 OUT OF STOCK / PRE-ORDER Sunfit 321 Pack
Nutrition to perform at your best from start to finish.

Bounce back from holiday excess to healthy habits and a fitter you. The SunFit321 Pack contains powerful herbal products that support weight management, nourish your body, and provide the clean energy to get you going and keep you going.
Featuring three targeted Sunrider® products, this pack is a great way to shed extra pounds, live a healthier life, and bring your mind, body, and spirit into balance.

30 Day Pack CONTAINS:
1 SunFit® Protein Plus Naturally Vanilla, 1.5 lb./680g tub;1 SunFit® Protein Plus Caramel Macchiato, 1.5 lb./680g tub, 3 Fortune Delight® Peach, 10/3g packs; 1 VitaTaste® 100 capsules; 1 SunFit321 Pack Card; 1 Shaker Bottle
Sample Pack CONTAINS: SunFit® Protein Plus, (1 sachet), Fortune Delight® Peach (1 packet), VitaTaste® (2 capsules), and SunFit321 Mini-Brochure
3 Fortune Delight® Peach 10/3 g Packs (0.10 oz./3 g each bag)

1 SunFit Protein Plus Naturally Vanilla 680g
1 SunFit Protein Plus Caramel Macchiato 680g

1 FREE Shaker Bottle with full size 30 day pack
Disclaimer: The views and opinions expressed by contributors of the product reviews are their own and not necessarily those of HerbsFortune.com. HerbsFortune.com does not endorse or imply any medical claims from these reviews. These reviews should not be taken as recommendations but rather customer opinions of the products that they may or may not have used. Reviews are not intended as a substitute for appropriate medical care or advice and are not intended to diagnose, treat, cure, or prevent any disease.