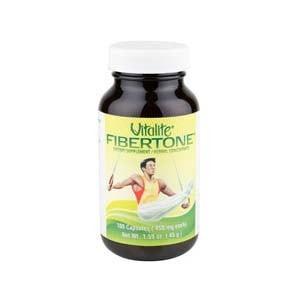 NOW AVAILABLE Fibertone | Digestive Herbal Food Supplement by Sunrider
NOW AVAILABLE
Based on the Philosophy of Regeneration®, the body functions at optimal levels when it is in balance. Intake (yin) and outgo (yang) are crucial elements to keeping the five systems in balance. Fibertone® specifically addresses the digestive system with a proprietary blend of herbs to help keep yin and yang in balance.*
Fibertone® supplement enhances the natural process of the digestive system.* Our exclusive formulation contains an all-natural combination of oat bran, psyllium seed and other beneficial herbs that assist the body's metabolism.* May assist with constipation.* We also recommend daily exercise in combination with a sensible diet, including high-fiber, low-fat foods such as vegetables, fruit, lean white meats, or fish.
*These statements have not been evaluated by the Food and Drug Administration. This product is not intended to diagnose, treat, cure or prevent any disease.
Two capsules three times a day. 
Ingredients Include: Oat Bran, Tora Seed, Psyllium Seed
NOTICE: This product contains Tora Seed. Read and follow directions. Do not use if you have or develop diarrhea, loose stools, or abdominal pain because Tora Seed may worsen these conditions and be harmful to your health. Consult your physician if you have frequent diarrhea or if you are pregnant, nursing, taking medication, or have a medical condition.
100 Capsules/Bottle
898480002207
NOW AVAILABLE Fibertone | Digestive Herbal Food Supplement by Sunrider has a rating of 5.0 stars based on 1 reviews.
Disclaimer: The views and opinions expressed by contributors of the product reviews are their own and not necessarily those of HerbsFortune.com. HerbsFortune.com does not endorse or imply any medical claims from these reviews. These reviews should not be taken as recommendations but rather customer opinions of the products that they may or may not have used. Reviews are not intended as a substitute for appropriate medical care or advice and are not intended to diagnose, treat, cure, or prevent any disease.