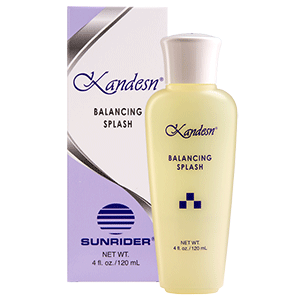 Kandesn Balancing Splash - Fragrance Free | by Sunrider
NOW AVAILABLE
Kandesn® Balancing Splash is designed to finish cleansing and begin your moisturizing regimen.

Our Balancing Splash gently firms, tones and stimulates the skin. It contains concentrated extracts that are gentle. Additionally, it invigorates with a slightly acidic pH that is in harmony with healthy skin.
Recommendation
Apply to a clean face with a cotton ball or pad in a light upward and outward motion. Avoid eye areas. Then apply Deep Moisture Lotion for best results.
Fragrance Free
Net Wt. 4 fl oz / 118 ml
Kandesn Balancing Splash - Fragrance Free | by Sunrider has a rating of 5.0 stars based on 4 reviews.
Disclaimer: The views and opinions expressed by contributors of the product reviews are their own and not necessarily those of HerbsFortune.com. HerbsFortune.com does not endorse or imply any medical claims from these reviews. These reviews should not be taken as recommendations but rather customer opinions of the products that they may or may not have used. Reviews are not intended as a substitute for appropriate medical care or advice and are not intended to diagnose, treat, cure, or prevent any disease.