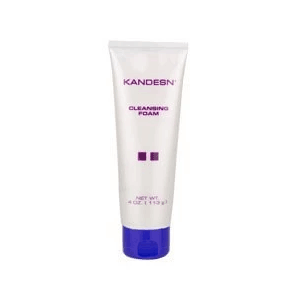 OUT OF STOCK / PRE-ORDER Kandesn Cleansing Foam | by Sunrider
Temporarily out of stock due to production changes at Sunrider International. In the meantime, you can pre-order it, save a place in line and lock in the price!
Kandesn® Cleansing Foam removes even the finest traces of water-based impurities. It is the second step in the Kandesn® Basic Skin Care Regimen.

Made with an exclusive combination of superior herbal ingredients, Kandesn® Cleansing Foam moisturizes naturally while cleansing gently yet effectively. The exclusive formulation is slightly acidic to be in balance with the skin's natural pH and to harmonize with the skin.
Recommendation
Add a small amount of water to a pearl-sized amount of Kandesn®Cleansing Foam to activate. Rub until foam lathers. Apply gently over face. Rinse off with warm water and dry with a clean, cotton cloth. Follow with Kandesn® Balancing Splash and Kandesn® Deep Moisture Lotion.
Nt. Wt. 2 oz./60 g
Paraben Free 
OUT OF STOCK / PRE-ORDER Kandesn Cleansing Foam | by Sunrider has a rating of 5.0 stars based on 4 reviews.
Disclaimer: The views and opinions expressed by contributors of the product reviews are their own and not necessarily those of HerbsFortune.com. HerbsFortune.com does not endorse or imply any medical claims from these reviews. These reviews should not be taken as recommendations but rather customer opinions of the products that they may or may not have used. Reviews are not intended as a substitute for appropriate medical care or advice and are not intended to diagnose, treat, cure, or prevent any disease.