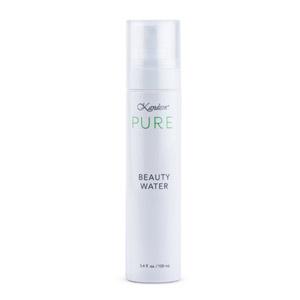 NEW - Kandesn Pure Beauty Water by Sunrider
NOW AVAILABLE
Refresh, reset, and revive your skin

This delicate blend of botanical extracts resets your skin's natural pH level after cleansing to balance and hydrate while creating a clean base for the next steps in your skincare routine. Our skin-loving vegan formula is enriched with nature's finest ingredients to calm, soothe, and revive even the most irritated skin.
Benefits

Safe and gentle for all skin types
Refreshes, cleans, tones, and soothes
Tightens the appearance of pores
Preps skin for moisturizers and foundation
Helps balance and maintain skin's protective acid mantle
Naturally vegan
Ingredients Include:
Niacinamide
Rosa Centifolia Flower Water
Beet Root Extract
Sodio PCA
Inula Helenium Extract
Recommendations:
Mist the face or saturate a cotton pad and smooth over the face and neck in circular motions after cleansing. Reapply as needed, depending on the climate and/or skin condition.

Net Weight: 100 mL/3.4 oz.
Disclaimer: The views and opinions expressed by contributors of the product reviews are their own and not necessarily those of HerbsFortune.com. HerbsFortune.com does not endorse or imply any medical claims from these reviews. These reviews should not be taken as recommendations but rather customer opinions of the products that they may or may not have used. Reviews are not intended as a substitute for appropriate medical care or advice and are not intended to diagnose, treat, cure, or prevent any disease.