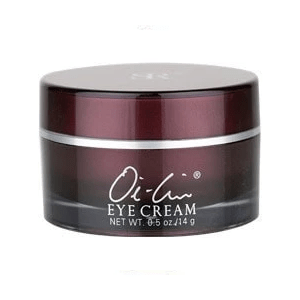 NOW AVAILABLE Oi-Lin Eye Cream | by Sunrider
NOW AVAILABLE
Oi-Lin Eye Cream is a complete, concentrated herbal eye treatment that moisturizes, reduces puffiness and dark circles around the eyes, and smoothes skin. This fast-acting formula offers the latest in skin care technology.


Recommendation
Apply to the skin around the eye area in a gentle dabbing motion morning and night. Follow with Dr. Chen Refining & Lifting Cream and Oi-Lin Replenish Gel. Store product in a dark area to preserve the effectiveness of the ingredients.
Paraben Free
Net Wt. 0.5 oz./14 g
Disclaimer: The views and opinions expressed by contributors of the product reviews are their own and not necessarily those of HerbsFortune.com. HerbsFortune.com does not endorse or imply any medical claims from these reviews. These reviews should not be taken as recommendations but rather customer opinions of the products that they may or may not have used. Reviews are not intended as a substitute for appropriate medical care or advice and are not intended to diagnose, treat, cure, or prevent any disease.