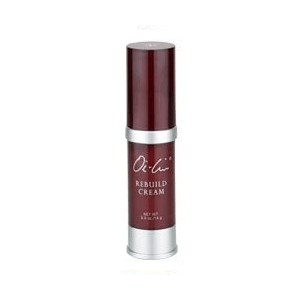 NOW AVAILABLE Oi-Lin Rebuild Cream | by Sunrider
Exfoliate, target, and transform
Treat aging, damaged skin to a total rejuvenation by boosting its natural cycle of youthful renewal. Jojoba seed and avocado oils hydrate and plump while alpha hydroxy acids exfoliate dull, dead surface skin and stimulate collagen growth within. Watch the appearance of fine lines fade and texture dramatically improve.
Benefits
Diminishes the appearance of fine lines and wrinkles
Brightens and rejuvenates dull skin
Reduces the appearance of large pores
Smoothes and refines skin texture
Ingredients Include:
Alpha Hydroxy Acids (AHAS)
Jojoba Seed Oil
Avocado Oil
Formulated to transform damaged or problem skin without harming surface skin cells, this cream contains plant-derived alpha hydroxy acids (AHAs). These AHAs help speed the skin's natural cycle of renewal and rejuvenation by exfoliating surface cells that dull the complexion.
Oi-Lin® Rebuild Cream also contains intense concentrations of herbal extracts, essential oils and antioxidants, all of which work in harmony with the skin to help achieve a healthy, natural look by decreasing the appearance of fine lines and wrinkles.
Recommendation
Apply Oi-Lin® Rebuild Cream on the face and neck after cleansing and toning. For best results, apply over Oi-Lin® Exceptional Cream or Oi-Lin®Supreme Emulsion. Be careful to avoid the eye area.
Paraben Free
Net Wt. 0.5 oz./14 g
NOW AVAILABLE Oi-Lin Rebuild Cream | by Sunrider has a rating of 4.0 stars based on 3 reviews.
Disclaimer: The views and opinions expressed by contributors of the product reviews are their own and not necessarily those of HerbsFortune.com. HerbsFortune.com does not endorse or imply any medical claims from these reviews. These reviews should not be taken as recommendations but rather customer opinions of the products that they may or may not have used. Reviews are not intended as a substitute for appropriate medical care or advice and are not intended to diagnose, treat, cure, or prevent any disease.