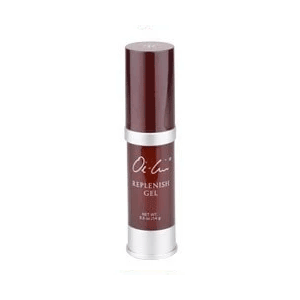 NOW AVAILABLE Oi-Lin Replenish Gel | by Sunrider
Oi-Lin® Replenish Gel is designed to hydrate the delicate eye and mouth areas that are especially prone to wrinkling. It also is ideal for other areas of the face that require gentle yet intense hydration.


This anhydrous gel helps moisturize and smooth the skin. The antioxidants in this advanced, rich formulation help combat the effects of free radicals, which cause fine lines and wrinkles in skin. Owner expertise produces an exclusive formula that seals in moisture in wrinkle-prone areas and provides a gentle emollient effect without a greasy feel.

Wake up with the softest skin imaginable by applying a thin layer to your face at night as an intensive moisturizing mask.

Recommendation
Apply Oi-Lin® Replenish Gel gently around the eyes, or any other area in need of intensive moisturization.
Paraben Free
Net Wt 0.5 oz./14 g
NOW AVAILABLE Oi-Lin Replenish Gel | by Sunrider has a rating of 5.0 stars based on 3 reviews.
Disclaimer: The views and opinions expressed by contributors of the product reviews are their own and not necessarily those of HerbsFortune.com. HerbsFortune.com does not endorse or imply any medical claims from these reviews. These reviews should not be taken as recommendations but rather customer opinions of the products that they may or may not have used. Reviews are not intended as a substitute for appropriate medical care or advice and are not intended to diagnose, treat, cure, or prevent any disease.