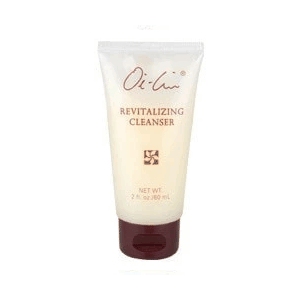 OUT OF STOCK / PRE-ORDER Oi-Lin Revitalizing Cleanser | by Sunrider
Temporarily out of stock due to production changes at Sunrider International. In the meantime, you can pre-order it, save a place in line and lock in the price!
Water-based cleansing

Deep clean pores of excess sebum, makeup, and sunscreen while balancing skin's pH. Soy protein hydrates, while vitamin-rich aloe vera nourishes and grapefruit evens tone and helps repair the appearance of visible aging.

Benefits

Deep cleans pores
Refreshes and energizes the skin
Softens, soothes, and moisturizes
Herbal extracts nourish and balance the skin
Maintains proper pH balance of the skin
Ingredients Include
Aloe Vera Gel
Hydrolyzed Soy Protein
Grapefruit Extra
Formulated with a unique combination of herbal and citrus fruit extracts, Oi-Lin® Revitalizing Cleanser combines cleansing with the softening, smoothing, and moisturizing effects of a soothing mask. Your skin will feel refreshed and energized.

Recommendation
Dispense a pearl-sized amount of Oi-Lin® Revitalizing Cleanser onto hand. Add water and rub product between hands. Gently massage onto skin. Rinse with water and pat skin dry with a clean, cotton towel. For best results, follow with Oi-Lin® Facial Toner and Special Treatments. You may also alternate with Oi-Lin® Warm Facial Scrub.
Paraben Free
Net Wt. 2 fl. oz./60 mL
OUT OF STOCK / PRE-ORDER Oi-Lin Revitalizing Cleanser | by Sunrider has a rating of 5.0 stars based on 1 reviews.
Disclaimer: The views and opinions expressed by contributors of the product reviews are their own and not necessarily those of HerbsFortune.com. HerbsFortune.com does not endorse or imply any medical claims from these reviews. These reviews should not be taken as recommendations but rather customer opinions of the products that they may or may not have used. Reviews are not intended as a substitute for appropriate medical care or advice and are not intended to diagnose, treat, cure, or prevent any disease.