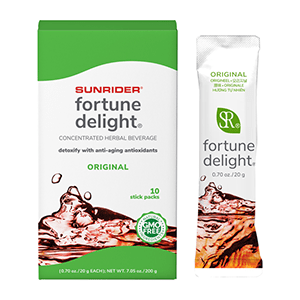 OUT OF STOCK / PRE-ORDER - Fortune Delight Regular (Original) 10pk / 20g Stick Pack - Natural Herbal Tea by Sunrider
Temporarily out of stock due to production changes at Sunrider International. In the meantime, you can purchase the 3g packets, or pre-order the 20g, save a place in line and lock in the price!
10ct box of large packets, Regular (Original) flavor.

New Look. Same Great Product.
20g PACKETS ARE THE BEST DEAL PER CUP!
Introducing a fresh new look for our packaging. Our stick-pack format maximizes ease of use and portability while reducing packaging material and environmental impact. Safe, sustainable, and shareable, our packaging is perfect for your Sunrider lifestyle.

Cleanse, Hydrate, and Energize without the Crash
Skip the energy drinks; Fortune Delight® delivers healthy hydration without sugar, fat, and added caffeine––and the crash that follows. This "super tea" packs four times the concentration of vital nutrients and antioxidants found in traditional green tea to cleanse, nourish, and energize your body. Just 10 calories in every delicious cup, it's beverage bliss.

Benefits

Nourishes with healthy hydration
Cleanses with natural antioxidants
Four times more concentrated than traditional green tea
Balances and energizes your body without a sugar or caffeine crash
Zero fat, sugar, preservatives, or artificial sweeteners
No added caffeine or chemicals

Ingredient Highlights
Camellia Sinensis
Chrysanthemum Flower Extract
Jasmine Extract

Recommendations
The 20-gram packs are great for family use or large gatherings. Simply mix a packet with 6-7 cups of warm or hot water to make a pitcher. Can also use 1 tablespoon to make a single cup. 
Disclaimer: The views and opinions expressed by contributors of the product reviews are their own and not necessarily those of HerbsFortune.com. HerbsFortune.com does not endorse or imply any medical claims from these reviews. These reviews should not be taken as recommendations but rather customer opinions of the products that they may or may not have used. Reviews are not intended as a substitute for appropriate medical care or advice and are not intended to diagnose, treat, cure, or prevent any disease.